As of October 2010, Richlandtown Borough is host to a Tree Tender's Group certified by the PA Horticultural Society. You can contact the group, who is made up of some of our Parks and Recreation volunteers, for questions about tree care or for help with choosing or planting a tree. They are also looking for helpers who are willing to go out on volunteer missions to promote good tree care. Their missions will include tasks like basic tree care and maintenance, remediation of invasive species, , and even creating a catalog of our municipal trees to track their health and progress.  If you want to get involved in taking care of our local trees, Richlandtown's "Tree Amigos" welcome you!
Invasive Species
Did you know that some home garden favorites are in fact non-native invasive species? These plants like burning bush and barberry easily move from your gardens often by means of wind or critter to forests and begin to repopulate. Since the native ecosystem is not engineered for these plants to be a part of it, they can upset the delicate balance and take essential nutrients and water from the soil that our native plants need to survive. The picture to the right shows how barberry has overtaken native brush and prevented tree regeneration in a New York forest.
PA's Department of Conservation and Natural Resources (DCNR) says, "The first rule of responsible landscaping is to plant the right plants in the right environment: never introduce invasive plants to your landscape that will aggressively spread off your property and invade native plant communities. They can drastically alter ecosystems and give you and your neighbors maintenance headaches for years to come."
The Parks and Recreation Department would like to encourage borough residents to plant native and non-invasive species when they are building their home gardens. We know that it can be difficult to uproot plants that you've purchased and enjoyed in your garden, but it truly is the best move for protecting our local environment. If you don't wish to remove  thriving plant that you enjoy, take care to stop the spread of it by plucking surrounding seedlings and pruning as necessary. When and if the plant dies, replace it with a native plant.
A special concern in Richlandtown Borough is the invasive Norway Maple, which has already overtaken large sections of forest in New England. Unlike other Maple trees, the Norway Maple is not native to PA and is an invasive species. It looks much like any other maple tree, but there is an easy way to tell which it is. Pull a leaf from the tree and examine the sap. If it is a milky white looking sap, you have a Norway Maple. These invaders will repopulate very quickly and easily. Within a few short years, a whole grove of them could pop up if they aren't controlled.
On the left is an example from a home in town where the maples have overtaken an arborvitae treeline.
Another common invasive in our area is Tree-of-Heaven, or Ailanthis. It is often mistaken for other species, so if you aren't sure if this is the same tree or not, ask an expert before removing it, as it could be a native tree that looks similar.
The  best source of remediation for this problem is removal. If you have an invasive tree growing in your yard, be sure to pull saplings that grow and do you best to control seed pod spread. If possible, consider taking out these trees and replacing them with native trees. Below are suggestions for trees or plants that are native and will thrive well in our are.
DCNR suggests that if you are completely unsure what to plant, "a good trick is to notice which native plants are thriving nearby, and to use those clues to guide plant selection."
You can view a whole list of plants and trees considered invasive by visiting DCNR's website.
"Mulch Volcanoes:"
We've all seen mulch piled up around tree roots. Recent developments have shown that this practice is actually quite unhealthy for trees. According to the International Society of Arboriculture:
As beneficial as mulch is, too much will kill trees and shrubs. Unfortunately, North American landscapes are falling victim to a plague of over-mulching. More than 2-4 inches is over-mulching. Piling up mulch around the trunk or stem, in a "Mulch Volcano" will also kill the tree:
Continuous moisture on the trunk causes cankers and splits and allows diseases and pests to attack.
Excess moisture in the root zone will stress the plant and cause root rot
Thick blankets of mulch can become matted and actually PREVENT water and air from getting to the roots
Creates habitats for rodents who chew bark and girdle trees
Can encourage roots to tangle within the mulch rather than expand outward, making it weak and even choking the tree to death
Encouraged Plants and Trees:
The PA Horticultural Society deems certain trees that are particularly hardy, pest resistant, and beautiful as "Gold Medal Winners." (www.goldmedalplants.org)
Some Gold Medal Winners are:
Crabapple 'Donald Wyman' (Malus Sp.)
'Hally Jolivette' Cherry (Prunus sp.)
Persian ironwood (Parrotia persica)
Eastern Red Cedar (Juniperus virginiana 'Corcorcor' Emerald Sentinel™)
'Winter King' hawthorn (Crataegus viridis)
Golden rain tree (Koelreuteria paniculata 'Rose Lantern')
Japanese umbrella pine (Sciadopitys verticillata)
Magnolia 'Galaxy' Paperback maple (Acer griseum)
Nordmann fir (Abies nordmanniana)
Three Flower Maple (Acer triflorum)
Oriental spruce (Picea orientalis)
Other Pennsylvania Trees Native Trees:
American Linden
Black Cherry
Catalpa
Chokeberry
Crabapple
Hackberry
Hawthorne
Hedge Maple
Honey Locust
Ginko
London Plane
Pin Oak
Redbud
Red Maple
Red Oak
Serviceberry
Sawtooth Oak
Silver Maple
White Oak
Japanese Zelkova
A selection of Pennsylvania native plants on Manada Conservancy's local database:
* Perennials for sun to part sun
Beebalm (Monarda didyma)
Black-eyed susans (Rudbeckia fulgida)
Blazing star (Liatris spicata)
Butterfly milkweed (Asclepias tuberosa)
Cardinal flower (Lobelia cardinalis)
Eastern blue star (Amsonia tabermontana)
Garden phlox (Phlox paniculata)
Moss phlox (Phlox subulata)
New England aster (Aster novae-angliae)
New York aster (Aster novae-belgi)
Northern blue flag (Iris versicolor)
Oxeye sunflower (Heliopsis helianthoides)
Showy goldenrod (Solidago speciosa)
Smooth aster (Aster laevis)
Sneezeweed (Helenium autumnale)
Swamp sunflower (Helianthus angustifolius)
Sweet-scented Joe-Pye weed (Eupatorium maculatum)
Tall white beardtongue (Penstemon digitalis)
Wild blue indigo (Baptisia australis)
Wild geranium (Geranium maculatum)
Woodland stonecrop (Sedum ternatum)
* Perennials for shade to part shade
Alum root (Heuchera americana)
Black cohosh (Cimicifuga racemosa)
Blue wood aster (Aster cordifolius)
Cinnamon fern (Osmunda cinnamomea)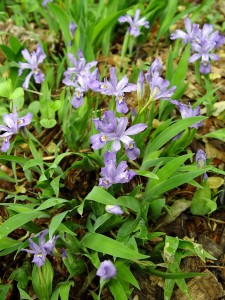 Crested iris (Iris cristata)
Foamflower (Tiarella cordifolia)
Goatsbeard (Aruncus dioicus)
Golden Alexander (Zizia aurea)
Goldenstar (Chrysogonum virginianum)
Great blue lobelia (Lobelia siphilitica)
Jacob's ladder (Polemonium reptans)
Marginal wood fern (Dryopteris marginalis)
Ostrich fern (Matteuccia struthiopteris)
Smooth Solomon's seal (Polygonatum biflorum)
Virginia bluebells (Mertensia virginica)
White turtlehead (Chelone glabra)
White wood aster (Aster divaricatus)
Wild bleeding heart (Dicentra eximia)
Wild blue phlox (Phlox divaricata)
Wild columbine (Aquilegia canadensis)
* Trees and shrubs for sun to part sun
American cranberry bush (Viburnum trilobum)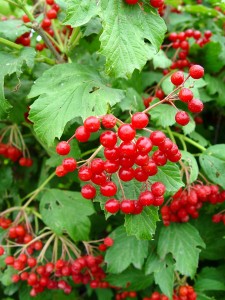 American elderberry (Sambucus canadensis)
American holly (Ilex opaca)
American hornbeam (Carpinus caroliniana)
Black chokeberry (Aronia melanocarpa)
Bush honeysuckle (Diervilla lonicera)
Buttonbush (Cephalanthus occidentalis)
Common ninebark (Physocarpus opulifolius)
Coralberry (Symphoricarpos orbiculatus)
Eastern red cedar (Juniperus virginiana)
Highbush blueberry (Vaccinium corymbosum)
Lowbush blueberry (Vaccinium angustifolium)
New Jersey tea (Ceanothus americanus)
Northern bayberry (Myrica pensylvanica)
Northern red oak (Quercus rubra)
Possumhaw viburnum (Viburnum nudum)
Red chokeberry (Aronia arbutifolia)
Red maple (Acer rubrum)
River birch (Betula nigra)
Serviceberry (Amelanchier canadensis)
Shrubby cinquefoil (Potentilla fruticosa)
Shrubby St. Johnswort (Hypericum prolificum)
Snowberry (Symphoricarpos albus)
Staghorn sumac (Rhus typhina)
Sugar maple (Acer saccharum)
Virginia sweetspire (Itea virginica)
White oak (Quercus alba)
Winterberry holly (Ilex verticillata)
* Trees and shrubs for shade to part shade
American dogwood (Cornus florida)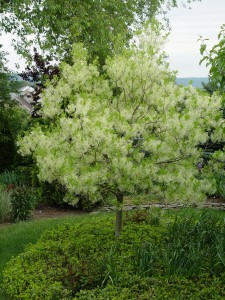 American fringetree (Chionanthus virginicus)
Arrowwood viburnum (Viburnum dentatum)
Blackhaw viburnum (Viburnum prunifolium)
Eastern redbud (Cercis canadensis)
Inkberry holly (Ilex glabra)
Mapleleaf viburnum (Viburnum acerifolium)
Pagoda dogwood (Cornus alternifolia)
Red osier dogwood (Cornus sericea)
Rosebay rhododendron (Rhododendron maximum)
Sourwood (Oxydendron arboretum)
Smooth azalea (Rhododendron arborescens)
Smooth hydrangea (Hydrangea arborescens)
Spicebush (Lindera benzoin)
Summersweet (Clethra alnifolia)
Swamp azalea (Rhododendron viscosum)
Sweet bay magnolia (Magnolia virginiana)
Sweetshrub (Calycanthus occidentalis)
Witch hazel (Hamamelis virginiana)
Sources and additional references:
Manada Conservancy, www.manada.org
PA Department of Conservations and Natural Resources www.dcnr.state.pa.us
DCNR List of Common Trees in PA (includes non-native and invasive as well)
PA Horticultural Society www.pahorticulturalsociety.org
International Society of Arboriculture www.isa-arbor.com